KAKE
Posted: May 15, 2019 5:58 PM CDTUpdated: May 15, 2019 5:58 PM CDT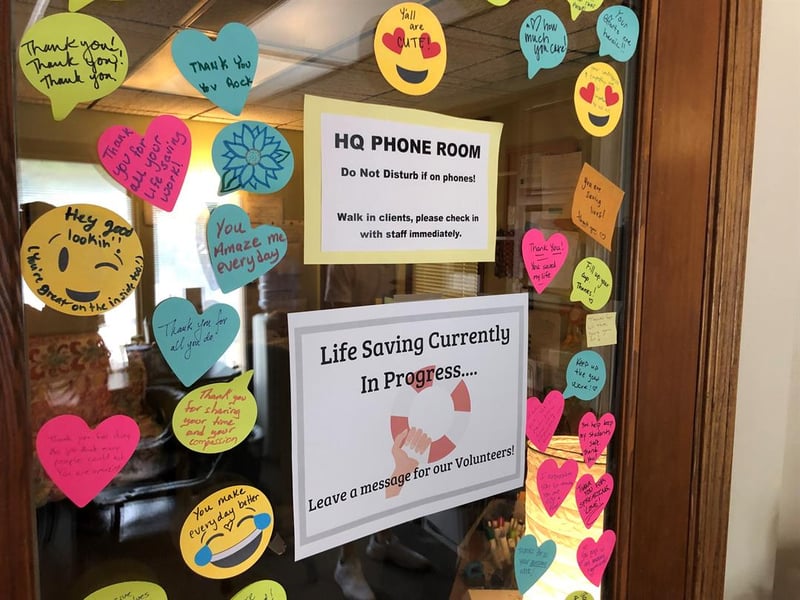 The door to the current National Suicide Prevention Hotline call center in Lawrence, Kansas. Taking calls from Kansans is tough, so Monica Kurz says they decorate the door with motivational phrases and encouragement.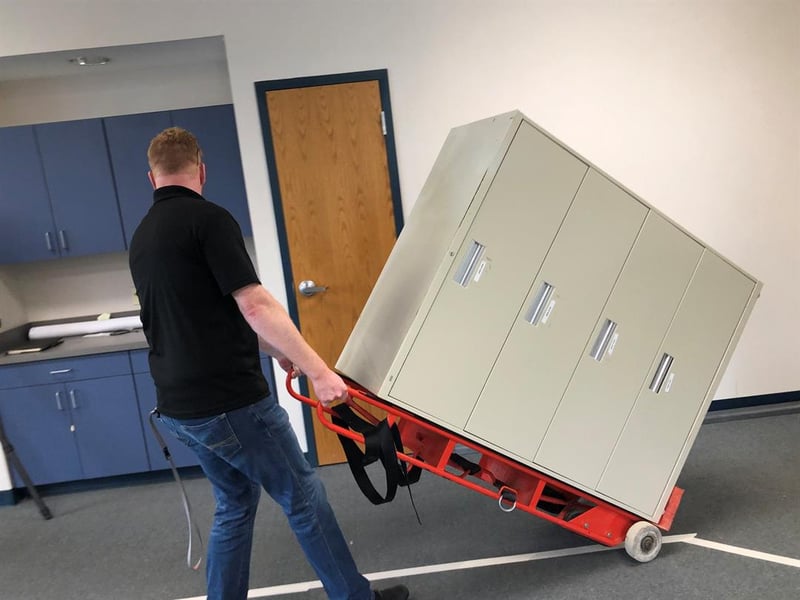 While crisis counselors continue to take calls at their current location, leadership and other staffers are busy moving into the new office space, more than three times as big.
LAWRENCE, Kan. (KAKE) –Suicide is a problem of epidemic proportions in Kansas, growing by 45% over the last two decades according to the CDC.  Calls for help are increasing just as quickly.  Now, the state's largest provider of suicide prevention services is expanding to meet that growing need.
"Like I said, we're kind of in the stages of moving," said Monica Kurz, director of the Kansas Suicide Prevention Resource Center which runs the National Suicide Prevention Lifeline in Kansas.
Suicide Prevention Lifeline: 1-800-273-8255
She's standing in the middle of a mostly empty office space that will soon be a life-saving concern for thousands of Kansans.
"Suicide is not so much about death.  Suicide is about pain.  It's about folks being in an incredible amount of emotional, or physical, or psychological pain that, in that moment, they don't know another way to alleviate it," Kurz said. "And so we really find that listening is a way to release some of that pain. and also to make a connection with someone at a time when you're likely very isolated and very by yourself with the things that are happening."
Every year, the National Suicide Prevention hotline takes 19,000 calls from Kansans, 2,000 of them from the Wichita area alone.
WARNING SIGNS
Talking about wanting to die
Looking for a way to kill oneself
Talking about feeling hopeless or having no purpose
Talking about feeling trapped or in unbearable pain
Talking about being a burden to others
Increasing the use of alcohol or drugs
Acting anxious, agitated or recklessly
Sleeping too little or too much
Withdrawing or feeling isolated
Showing rage or talking about seeking revenge
Displaying extreme mood swings
The crisis counselors who answer those calls are volunteers who work out of the Headquarters, Inc, office spaces in Lawrence.
"These are your neighbors.  These are people that want to help," Kurz said.  "We think it is incredible that we now have this space to do more of that."
She says they've long since run out of room at their current location, as the need for volunteers and other staffers has increased.  So they're moving into a much larger building, just a few blocks away but with more than five-times the space.
"It is an incredible move.  And I think that some of us were like, 'Are we going to be able to fill up that space?' And the truth is, 'Yes!'" Kurz said.
That new call center in the new office space, also three times the size.  And, with news that came down Wednesday, pretty much full already.
"As of today we received word from the Lifeline that Kansas is going to be able to expand their online chat program," Kurz said.  "The calls are going up, but online chat is also becoming increasingly popular and we, as a national network, across the country, have struggled to keep up with the volume of chats that are coming in."
More crisis counselors answering online chat requests means they'll have to fit yet more people into the new call center room along with their computers.
"We know that we need multiple folks on computers being able to talk to a few different people at a time," Kurz said about the needs for more space.  Looking around at the still nearly empty new facility, she added, "So we're very excited,"
The rise in calls for help, by phone or online, does reflect the increasing numbers of suicides in Kansas.  At the National Suicide Prevention Lifeline they see that growth as a good thing.
HOW TO HELP
Do not leave the person alone
Remove any firearms, alcohol, drugs, or sharp objects that could be used in a suicide attempt
Call the U.S. National Suicide Prevention Lifeline
Take the person to an ER or seek help from a medical or mental health professional
"I really view it as a positive," said Kurz.  "If you never hear your community talking about it, if you don't know that a resource is available, you're just sitting alone with those really dangerous thoughts. And, as we see more people reaching out for help, I think that's telling us that more folks know help is available."
They should be operating out of the new facilities by the end of the month.