Hello! How are you?
I am so excited to be sending my first newsletter to you! My name is Michael Hutton, and I am the new Communication and Marketing Coordinator for KSPHQ. It is an honor to join the KSPHQ family along with my wonderful partner, Zoe, and our three cats. Before traveling to Lawrence almost three years ago, I worked as a professional musician and a university instructor. While I continue to transition into this new role at KSPHQ, I am sure you and I will continue to celebrate many new "firsts," like this first newsletter!
As many of you know, my incredible predecessor and mentor, Allan Bunch, has accepted a new position and has traveled off to the east coast in search of warm winters and long days on the beach. I tried to tag along for his trip, but Allan had to inform me that I would not fit inside of the suitcase. Even so, Allan's departure has left us all with a lot less laughter in our lives and big shoes to fill. I have cherished the time I got to spend with Allan. I wish for his success, happiness, and health.
Though I came into my new role only a few weeks ago, I have continued to develop such a deep passion for the work that this organization does, and I know that my enthusiasm will only continue to grow as we implement new and exciting programs and events for our community.
And, WOW, there some exciting things coming up!
As a new team member, I have been learning so much information about our new 988 crisis line, our amazing volunteer program, and the challenges KSPHQ will experience as they continue to expand their services. Our volunteers are truly what make us special. Without our volunteers, our communities would be much more strained for proper crisis resources.
The introduction of 988 will drastically increase call volumes and queue times for the crisis line. Without more volunteers, these wait times may prevent some individuals from receiving the assistance they need.
If you have ever thought about becoming a volunteer, NOW is the time. KSPHQ and our community need you. If you know someone who may be a good fit for volunteering, bring the upcoming volunteer information sessions to their attention. You can find more information about these sessions further down in the newsletter, or by visiting ksphq.org.
Thank you for supporting this organization and helping to spread this message of hope. We continue to make a difference in our state and our local community every single day, and we are not stopping any time soon.
Until next time,
MWH
Michael W. Hutton
Communication & Marketing Coordinator
Headquarters, Inc. is now Kansas Suicide Prevention HQ
Education | Support | Crisis Services
Hope today for a better tomorrow.
Keep your eyes on your mailbox for the KSPHQ Spring Appeal!
This year, we are going full artist with our warm and colorful Spring Appeal inspired by the beauty of the Kansas landscape! In addition, we are excited to present the appeal in a brand new format.
Want to make sure you get your own copy? Make sure you are on our mailing list and check your mailboxes around June 3rd to see it for yourself!
April showers bring May flowers, but they also bring us Mental Health Awareness Month!
During the month of May, we celebrate Mental Health Awareness Month, a time for all of us to come together to discuss the mental health of our communities and how we may create resources and services to help those in need. This year, we are continuing to fight against stigma associated with mental health, provide support for those with mental illness and the counselors supporting them, and advocate for policies on behalf of those with mental illness in our community.
Mental health is an essential aspect of our overall health, and the importance of maintaining our mental health has become even more apparent in the midst of the Covid-19 pandemic, a time that has not only negatively impacted the mental health of our Kansas communities but has also created many barriers to access effective resources. In 2020, research found that 37.9% of adults in Kansas reported symptoms of anxiety and/or depressive disorders (Kaiser Family foundation, 2021). Among those Kansas adults, 25.5% reported a need to seek counseling or therapy but did not receive it in the prior four weeks. As issues of mental health continue to impact our friends, family members, and communities here in Kansas, the need for more comprehensive mental health services could not be more apparent.
Comprehensive and research-focused mental health resources are essential as we continue to navigate through this new social landscape. Counseling resources such as the KSPHQ crisis phone line, the National Suicide Prevention Lifeline, and emotional support online chat programs continue to empower the members of our community to seek help when they need it the most. The KSPHQ Resource Center actively works deep within our communities, fostering mental health awareness and suicide prevention through trainings and collaborative discussions with students across the state of Kansas. For parents, guides for suicide risk identification and safety plan creation help to educate families on the most effective ways to initiate discussions surrounding mental health. Our communities are made stronger when the proper mental health resources are in place to help those who are in need. If these resources are not supported, then many members of our neighborhoods, cities, and counties are left without assistance.
You can make an impact in your community and help to extend these vital resources to those around you. Share resources on your social media accounts to help spread awareness and fight the stigma surrounding mental illness. Donations made to KSPHQ ensure that our Resource Center trainings and crisis counseling services are available to all Kansas communities when they are needed. Consider becoming a volunteer counselor at KSPHQ and directly impact the lives of those around you. No matter how you decide to express your support for mental health services, continue to help our efforts as we fight the negative stigma surrounding mental illness and continue to support the availability of mental health resources in Kansas.
(To learn more about these resources and how you can help, visit ksphq.org/resourcecenter)
Do you want to make a difference?
KSPHQ is looking for new volunteers!
The KSPHQ team is recruiting new volunteers to the organization! If you are interested in learning more about the resources and programs or simply want to help those within our local community, click here or visit our website (ksphq.org) to learn more about our upcoming information sessions.
You can truly be a lifesaver.
What it Means to be a Volunteer?
Volunteer counselors answer calls on a local hotline for emotional support and mental health crises a well as the National Suicide Prevention Lifeline. Our training is very thorough and you'll have the support of dozens of other volunteer counselors and staff.
Informational meetings are held in January, May, and August/September; they are open to the public and provide information about HQCC, our training program, and what it's like to volunteer at the center.
Volunteer Counselor Trainings –
Spring 2021
Orientation meetings take place vis Zoom (link on our website) and you only need to attend one. All times are Central Time. Summer 2021 meeting dates are:
May 25th at 6:00pm
After the meeting, you'll have the opportunity to fill out an application form. Applications will be due back by May 30 by 7 pm.
After applications have been reviewed, we interview training candidates to help us select those who are the best fit for our work.
Volunteer counselor training will take place online but volunteer shifts take place in person at our crisis call center in Lawrence, KS.
NOTE: Until 988 is fully online, call 1-800-273-8255 if you are in crisis or visit our Get Help page to learn more about how our services work.
What is 988?
By July of 2022, 988 will be the new number for anyone in crisis to call. Much like 911 is known as the emergency number for police, fire, or medical help, 988 will be the crisis line for a mental health crisis or suicide prevention.
988 will work exactly like the existing National Suicide Prevention Lifeline. All calls from 988 will route to National Suicide Prevention Lifeline Centers, like KSPHQ!
KSPHQ's counseling center (aka, Headquarters Counseling Center) is the local crisis center serving all 105 counties in Kansas. If the counselors at HQ are helping others or aren't able to answer, the call "rolls" to another crisis center in the 170-center Lifeline network.
Anyone can call for any reason. If you're thinking about suicide, experiencing a mental health crisis, concerned for a friend, grieving, feeling hopeless, or just need to talk to someone about something that's going on in your life, you can call.
Our counselors volunteer their time because they care about you and want to help.
How did 988 come about and will when it be online? 
In August of 2018, Congress passed the National Suicide Hotline Improvement Act instructing the Federal Communications Commission (FCC) to examine what measures would be needed (and how much those measures would cost!) to enhance the operation of the National Suicide Prevention Lifeline (NSPL), specifically with attention given to using a 3-digit dialing code. The FCC introduced the possibility of using 988 for the NSPL. Rather than people needing to memorize 1-800-273-8255, all they would need to dial is 988! This 988 number would operate in the same way as other 3-digit numbers, such as 911. With this move, 988 would incorporate the NSPL into an umbrella of crisis services. Bottom Line: this number will serve as a hub for a wide variety of mental health concerns, not simply those who are struggling with suicidality.
On July 16, 2020, the Federal Communications Commission (FCC) unanimously approved designation of 988 for the National Suicide Prevention Lifeline on Thursday, July 16, 2020. These rules require all telephone service providers to enable the designation of 988 as a national suicide prevention and mental health crisis line within 2 years, effective July 16, 2022.
As of last November, Sprint/T-Mobile was the first and only carrier to date to bring 988 to their customers. The 988 system is already available for Sprint/T-Mobile customers. Customers with land lines or other mobile service providers should still call the Lifeline at 800-273-8255 (TALK). 
What does this mean for Kansas? 
The most recent report from Vibrant Emotional Health projects the Lifeline's call volume will significantly increase somewhere between 300-800%.
As the only crisis center serving all 105 counties in Kansas, KSPHQ's counseling center, Headquarters Counseling Center, will need a large, enthusiastic, and energized group of volunteer counselors to answer the phones so that all Kansans who need help can get help. If you are interested in helping others, please learn more about our volunteer counselor program by clicking here.
Currently, the creation of 988 is an unfunded mandate. H.B. 2281, or the LIVES Act, is a bill in the Kansas Legislature that will fund Kansas suicide Lifeline services and crisis stabilization services to create an alternative to hospitalizations and reduce the need for law enforcement to respond to mental health crises.
Though HB2281 did not pass through the Kansas House Appropriations Committee, the bill will have another chance to be acted upon during the next legislative session which starts in January of 2023. This is why we ask YOU to Click here to find your legislator. Contact them and ask them about their plan to fund 988 and for their support of the LIVES ActAll Kansans need this bill to pass so that KSPHQ is able to answer the call when our friends, family, and neighbors need to be connected to someone who cares and can help to resolve their mental health and/or suicide crisis.
Learn more about 988 at 988ks.org
Entries are in–and the results are amazing! Thank you to all of the Kansas middle and high school students who participated in the suicide prevention art contest. The talent we have across the state is truly amazing.
Check out the submissions in our online gallery!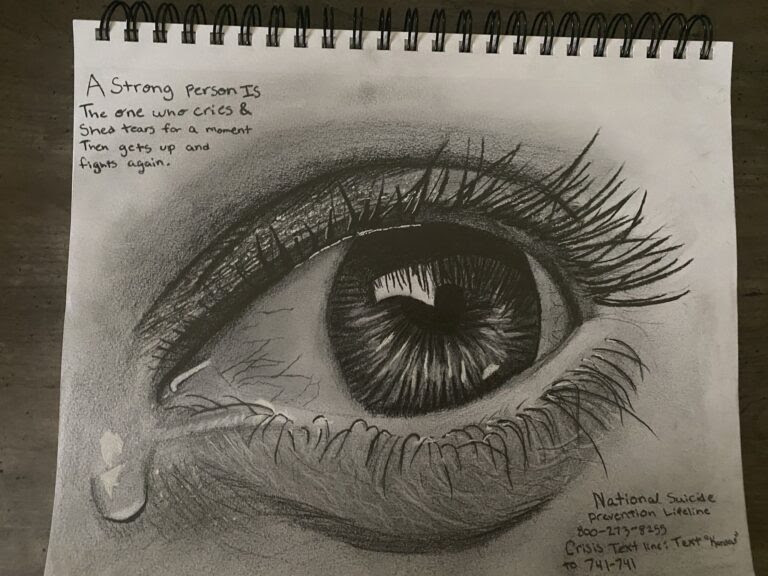 Ameris, a 9th grader from Pittsburg, KS
Bella, a 7th grader from Prairie Village, KS
Clara, a 10th grader in Topeka, KS
Mariam, an 8th grader from Prairie Village, KS
Shaleigh, a 9th grader from Pittsburg, KS
Briauhna, a 7th grader from Americus, KS
KYC3 IS BACK AND REGISTRATION IS OPEN!
(Be sure to check out @DCCCA for more information!)
Registration for the Kansas Youth Community Change Conference (KYC3) is now open! KYC3 is a FREE action-packed virtual event open to all middle and high school aged youth.
Through youth-led interactive sessions and high energy activities, youth will expand their leadership skills, engage with other youth across the state, and take action to promote positive change in their schools and communities!
Sessions will take place in the evening June 1st – 15th.
Our own Meg Hasselman will be presenting this year!