Hello again! Did you know that June is here?
As our community begins to reopen and welcome the sunshine, I find myself filled with so many feelings of hope and enthusiasm. This June will serve as a time where many families begin to feel comfortable venturing outside of their homes and reconnecting with friends and loved ones.
With many of us rushing outdoors to enjoy the Summer heat this June, I thought it might be fun to point out several different holidays and happenings that we should all keep in mind as we continue to think about our community's mental health. For example:
June is Father's Day
Father's Day is a wonderful holiday to celebrate our fathers, caregivers, and other parental figures in our lives. This holiday also serves as a great moment to reach out to the men in our lives and offer our support. On average, men are far less likely to discuss their ongoing mental health and stress-related issues. While their may be many different reasons for this (ex. media portrayals of tough men with no emotions, a culture of masculinity that encourages men to act aggressive and to subdue emotion, etc.) men continue to feel discouraged from sharing their emotions and struggles. This June, let us all take the time to reach out to the men in our lives, regardless of their fatherhood status, and let them know that they should always feel comfortable to be themselves.
June is Juneteenth
Juneteenth is the oldest nationally celebrated commemoration of the ending of slavery in the United States. While this date marks a significant turning point in American history, Black people still face systemic racism. This is why Kansas Suicide Prevention HQ signed onto a solidarity statement with Black Lives Matter several years ago and is continually committed to making sure we are living up to that statement. But we need the community's help. Juneteenth is a reminder that we cannot understand or change the present until we fully understand our past. For this Juneteenth, participate in an accurate retelling of the past by flying the Juneteenth flag, attending a local Juneteenth celebration, and by watching movies by a Black writer or director that accurately portrays the atrocities of slavery and the struggles that Black individuals have continued to face after slavery ended. We need difficult conversations about our country's racist past and present to create a society where Black lives are valued.
June is Pride Month
Every June, individuals gather to celebrate pride month, a celebration in tribute to those who were involved in the Stonewall Riots. These riots began on June 28th, 1969, after police raided the Stonewall Inn, a gay nightclub in Greenwich Village. The bar patrons, staff, and neighborhood rioted against this, leading to a movement that continued over six days! In addition, we must all remember that same-sex marriage has only been federally legal for six years, with the Supreme Court making that decision in June of 2015. To show your support this June, try attending one of the many pride marches and parades that are taking place! Fly a rainbow flag and learn about the meanings behind each color. Show your support for pride and the LGBTQ+ community!
June has National PTSD Awareness Day
Post-Traumatic Stress Disorder (PTSD) has been documented in humans from the beginning of written history; the earliest reference comes from Hippocrates in 50 BC as he narrates a story about a soldier who survives a traumatic war only to be haunted by combat-like flashbacks. Today, treatment for those experiencing PTSD is more effective and available, though many other roadblocks (i.e., health care costs, negative stigma, etc.) often prevent these individuals from getting the help that they need. This June, spread awareness for National PTSD awareness day by educating yourself on the symptoms of PTSD, donating to an organization that helps those with PTSD obtain aid and counseling, and spread the word on social media. Your support may help someone who is struggling
Regardless of how you choose to celebrate this June, make sure to take the time to extend care, love, and acceptance to those in your family and your community.
With love and care,
MWH
Michael W. Hutton
Communication & Marketing Coordinator
Headquarters, Inc. is now Kansas Suicide Prevention HQ
Education | Support | Crisis Services
Hope today for a better tomorrow.
---
NOW is the time for Spring Giving!
Whether you give a one-time donation or give a gift every month, we appreciate your heart, thoughts, and dedication to making our Kansas communities safer and healthier.
Learn How You Can Support KSPHQ
These training are provided free of charge to participants thanks to a grant from KDHE Zero Suicide Initiative
Interested in a training? Click the links or the picture to sign up!
Suicide Safety at Home
Date: June 24, 2021, (5:30-6:30PM)
Spots Available: 42
Register HERE!
Training Details:
"There are steps we can all take to make our homes safer for our loved ones. This session will discuss steps and plans that we can all take to keep youth and those living with suicidal thoughts safe at home. Particular attention will be paid to firearm safety resources."
Suicide Screening and Assessment
July 14, 2021, (9 – 11 AM)
Spots Available: 38
Register HERE!
Training Details:
"Validated screening tools are essential for good suicide prevention in mental health treatment and community settings. This training will focus on the use of the Columbia Scale (the gold standard in suicide screenings) and formulating suicide risk based on this screening and other evidence informed factors."
QPR
Dates: July 30, 2021, (1 – 3 PM)
August 17, 2021, (1 – 3 PM)
Spots Available: 21
Register HERE!
Training Details:
"Learn CPR for suicide risk. At the end of this session, participants will be competent in identifying someone at risk of suicide and helping to connect them to their next resource."
View the Full List of Trainings
---
What is the NAMI Basics Education Program?
NAMI Basics is a free, six-session program designed for parents and other family caregivers of children and adolescents with emotional and behavioral difficulties.
NAMI Basics helps parents and other family caregivers of children to understand the illnesses that are causing those behavioral difficulties, and the critical role families play in the treatment of those illnesses. The program is taught by trained teachers who are also the parents or family caregivers of individuals who experienced emotional or behavioral difficulties prior to age 13.
NAMI Johnson County, the local affiliate of the National Alliance on Mental Illness, will offer its NAMI Basics Education Program beginning June 3, 2021. It will be held Thursdays at 6:30 PM in Leawood, Kansas.
More information can be found at namijoco.org/basics
---
Entries are in–and the results are amazing! Thank you to all of the Kansas middle and high school students who participated in the suicide prevention art contest. The talent we have across the state is truly amazing.
Check out the submissions in our online gallery!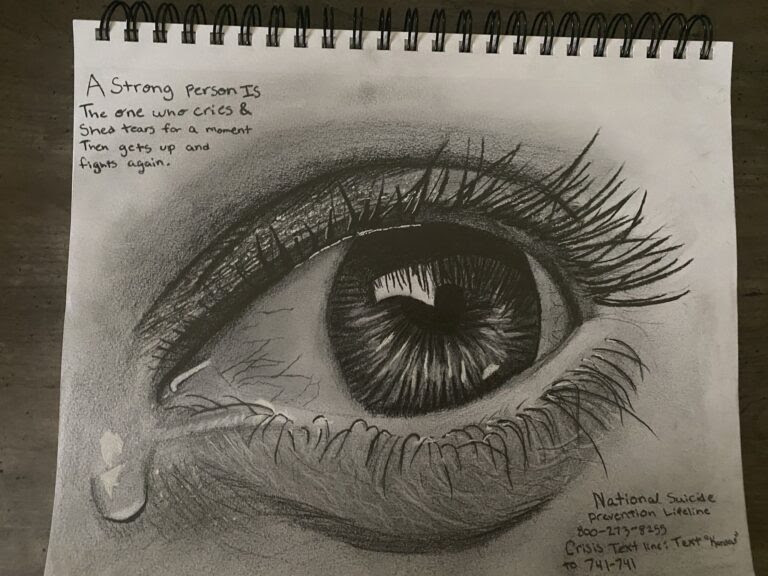 Ameris, a 9th grader from Pittsburg, KS
Bella, a 7th grader from Prairie Village, KS
Clara, a 10th grader in Topeka, KS
Mariam, an 8th grader from Prairie Village, KS
Shaleigh, a 9th grader from Pittsburg, KS
Briauhna, a 7th grader from Americus, KS